The status bar (modes) in AutoCAD
In the video tutorial, we met with the status bar (modes) Interface AutoCAD. In this video tutorial we look at the status bar in AutoCAD in more detail. It is also called the mode line in AutoCAD, because it contains a large number of buttons to configure and activate the drawing mode. It is located in the lower right corner of the window.

Drawing Status Bar (modes) in AutoCAD
With AutoCAD 2006 it has the opportunity to change the composition of the AutoCAD status bar buttons. Click adaptation, it is in the rightmost position of the state of AutoCAD lines and it shows the 3 horizontal lines. It reveals the list. Those buttons that have already been displayed in the status bar in the list are marked with checkmarks. As you can see, all of the buttons in the status bar displayed AutoCAD me, except the indicator of the coordinates.
To hide or show kropku in the status bar in AutoCAD it is necessary to select in the list. Since we are considering a two-dimensional drawing in AutoCAD, then hide the following buttons: 3D Object Snap, Dynamic PSK, select Filtering, Gizmo.
You can remove unwanted mode button, but I think it should not do, because at any moment they may need. Moreover, they are always in front of your eyes, and you know which mode is switched on or off.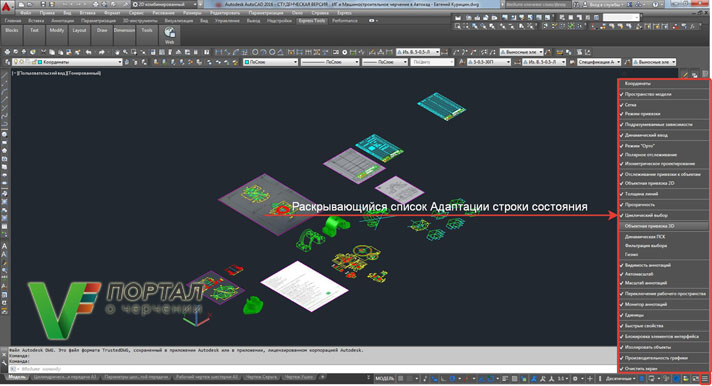 Picture drop-down list of the status bar in AutoCAD
You can easily enable or disable a particular drawing mode simply click on the button. In active mode, the button will light in blue. It is also easy to go into edit mode, just right-click on the desired mode of drawing, for example, Polar Tracking. Select the drop-down list - Tracking Options, and the dialog box will open the Drafting Settings on the desired tab to us.
Video "The status bar (modes) in AutoCAD" (Russian)
P.S.
This
video tutorial AutoCAD
and article are included in the free tutorial professional AutoCAD, which is suitable for both novice users and has long been working in this program.