Revision cloud AutoCAD
---
AutoCAD drawing command
Revision cloud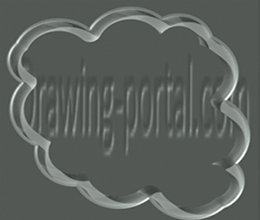 Definition
Revision cloud in AutoCAD is closed polyline consisting of arc segments.
Tool
Tool Revision cloud allows you to build auxiliary correctional clouds in drawing and is used to highlight viewed fragments..
Command
Cloud
Object
Polyline
Basically, corrective clouds are used to draw attention to individual fragments of drawing at stage of its verification and review.
Command Cloud
The Cloud command is responsible for its creation, which can be called in one of following ways (start creating cloud):
You can build revision cloud from menu bar, item Drawing - Cloud row;
You can draw it from Home tab of tool ribbon — in Drawing Tools group — nested buttons for how to build cloud in AutoCAD: rectangular, polygonal, freehand;
You can also create revision cloud from classic Drawing toolbar - Mark cloud button (by default);
You can start building it directly from command line by writing command name on Cloud command line.

No comments