Why do we need points in AutoCAD
---
AutoCAD drawing command
Point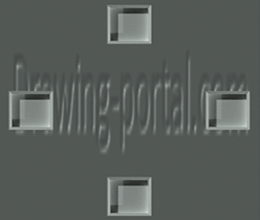 Definition
A point in AutoCAD is point object, which can have form of both regular point and special character. Often they are also called AutoCAD nodal or anchor points, since binding to them is carried out using Object snapping node, and anchor points, as they are used to clarify/designate coordinates of objects.
Tool
Инструмент Автокад Точка - циклическая команда, позволяющая строить объекты-точки.
Command
Point
Object
Point
System variables
PDMODE и PDSIZE - set appearance of points and their sizes.
Points in AutoCAD are used quite often and mainly as reference nodes. They are printed as any object and by default system creates special layer for them. Let's not get ahead of ourselves and consider creation, adjustment of points in program.
Command Point
The Point command is responsible for its creation, which can be called in one of following ways (start creating point):
you can create point in AutoCAD from menu bar item Drawing - line Point - in drop-down list select point construction mode Single or Multiple;
you can draw it from Home tab of ribbon of tools - in Drawing group - Several Dots button in AutoCAD;
you can build point in AutoCAD from classic Drawing toolbar - Point button with active mode of construction Several;
You can also start creating point by typing command name in command line Point / Point.
For convenience of calling Point command in AutoCAD, as well as Divide and Measure commands, you should add command buttons to Draw toolbar submenu.
Modes with points in program
The Point command works in two modes: normal and cyclic.
Button in AutoCAD Single point corresponds to normal mode of command, in which after building point, command will complete its execution.
The Multiple points button in AutoCAD corresponds to cyclic command mode, in which after building point, command requires you to set coordinates of next AutoCAD point, etc., until you stop its execution by pressing "Esc" key. If you need to put several points on drawing at once, then select Several points button.
The command in AutoCAD Point in cyclic mode cannot complete its execution by pressing "Enter" key. This command can only be interrupted by pressing "Esc" key.
How to put point in AutoCAD
To put point in program, you need to call Point command in any of above ways. Call this command from command line. system will display query:
Point to:
You can set its location in drawing: by clicking mouse or by entering coordinates in command line. As soon as you specify coordinates, point is built, and Point command completes execution. Point command in AutoCAD is always in normal construction mode if you call it from command line.
Styles of points or how to change appearance of points
If you have not yet changed appearance of point (shape and size) in AutoCAD system, then putting dot on drawing, you may not notice it. By default, in AutoCAD, point is displayed as one pixel, which is difficult to see on screen.
The Points display dialog box allows you to change display of points in drawing, which you can call:
You can change style of point in AutoCAD from menu bar item Format - string Display points ...;
You can change image of point in program on Home tab of toolbar - in Tools group of tools - button in AutoCAD Points display ...;
or enter command name on command line Point Type.
The dialog box offers 20 styling points. Select desired point style by clicking mouse. point view selected in AutoCAD, as well as current one, are highlighted with black background.
Point size (how to make AutoCAD point of desired size)
At bottom of "Display points in AutoCAD" dialog box, you can change size of point objects. Point size can be set:
"Relative to screen" - size of AutoCAD point on drawing is set as percentage of screen size, respectively, their size will change when drawing is zoomed, but does not depend on changing drawing scale.
"In absolute units" - size of point in drawing is set in absolute units, respectively, their size will not change when drawing is zoomed in, but when scale is changed, size of point object also changes.
I have not confused you yet?
Let us examine in more detail question: "What size, type of size should I choose to display points?"
Object in AutoCAD Point is used as an auxiliary object for constructions (not printed). In this case, regardless of size type chosen, AutoCAD point size is 5% / unit. point size type in AutoCAD is logical to use "Relative to screen". When zooming drawing, their size will change and cause some inconvenience, so use Regen command — regeneration of current viewport or Vseregene command to regenerate all viewports. Type (style) of AutoCAD point I use Cross (as in multiplication sign), since does not clutter up drawing and is clearly visible.
Point objects in AutoCAD are used as full-fledged drawing objects (printed). In this case, AutoCAD point size type is logical to use in absolute units. Their size is calculated and will depend on following components:
viewport print scale;
line type scale;
line weight (thickness);
from project (task) as whole.
After you have selected desired AutoCAD point type (style) in system, size type and size value, click on OK button in dialog box. As soon as dialog box closes, system will automatically redraw previously constructed AutoCAD points in new form throughout drawing file.
For points, create separate layer.
How to set point in system according to coordinates and connect points, for example, by segment?
A point in AutoCAD is simplest primitive object.
Therefore, for her we can set coordinates that we already know how.
Exercise:
Click on AutoCAD button. Several points. At command prompt appears:
Point to:
Enter absolute coordinates of first AutoCAD point on command line: (20, -30). Press "Enter". first point created. system will issue following request:
Point to:
Enter in command line absolute coordinates of second point: (70, 50). Press "Enter". second point in AutoCAD created. Since Point command uses cyclic mode of operation, we will interrupt its execution by pressing "Esc" key.
Now we need to connect points in AutoCAD. Call command "Line". command prompt will prompt:
First point:
in response to which, using object anchor, Node will become attached to first point and click mouse. Command line request Next point: we specify second AutoCAD reference point in drawing in same way. Two reference points in AutoCAD on drawing connected.
One of practical video lessons on descriptive geometry "Distance from point to plane", in which Point tool is often used.
Useful lessons and related topics
I recommend to get acquainted with similar lessons on AutoCAD:
how to copy with base point;
binding to point;
how in program to enter coordinates of points.
Читайте и смотрите также:
command line, commands;
drawing objects;
program window (interface);
dimensions;
hatching;
universal line - polyline;
table.
Courses, tutorials on AutoCAD:
AutoCAD 2D lessons.
AutoCAD 3D Lessons.
descriptive geometry.
Engineering graphics.
House plan.
Assembly drawing of spur gear.
3D kitchen model.
Video "Point of AutoCAD and Corrective (Marked) Cloud"
This video tutorial and article is included in professional free video course, which is suitable for both novice users and has long been working in program.