Object Multiline in AutoCAD
---
AutoCAD drawing command
Multiline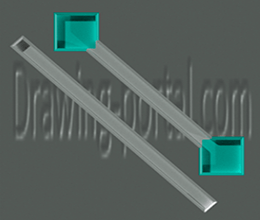 Definition
Multiline in AutoCAD is set of parallel lines that are created simultaneously using one command.
Tool
The Multiline tool is cyclic command that allows building parallel segments perceived by program as single object (a multi line has its own properties and editing tools).
Command
MLine
Object
Multiline
In video tutorial we will learn to build in AutoCAD multiline. Responsible for creation of multiline - team Mline.
In this video tutorial we will consider options of AutoCAD Multiline command:
Multiline arrangement.
Its scale.
Multiline style in program.
We will also dwell on creation of multiline style in AutoCAD, which is created using "MSTTIL" command. Let us examine multiline style dialog box and all necessary parameters when creating new multiline style in program.
Useful lessons and related topics
I recommend to get acquainted with similar lessons on AutoCAD:
editing multilines in AutoCAD;
broken line of segments;
smooth curve spline;
polyline broken line.
Read and see also:
drawing in AutoCAD;
scales (print, viewports, lines).
Courses, tutorials AutoCAD:
Lessons (2D design).
Lessons (3D modeling).
descriptive geometry.
Engineering graphics.
House plan.
Assembly drawing of spur gear.
3D kitchen model.
Video "Multilines in AutoCAD Part 1"
Video "Multiline AutoCAD Part 2"
This video tutorial and article is included in professional free video course, which is suitable for both novice users and has long been working in program.